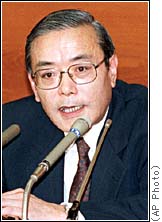 TOKYO (AP) -- Saying he was "at the limit," a top executive in charge of efforts to root out corruption at Japan's scandal-plagued central bank hanged himself Saturday, the latest suicide involving the widening probe.
The Bank of Japan's chief director, Takayuki Kamoshida, 58, was found hanging from a nylon cord in a Tokyo apartment early Saturday morning, a police official said on condition of anonymity.
A note found in the apartment said: "I'm tired. I'm at the limit."
Kamoshida, who is not known to be under investigation himself, was the central bank's top manager, ran anti-corruption efforts there and was in charge of punishing errant employees, national broadcaster NHK said.
"He had an important role in the new BOJ. It is truly regrettable," Prime Minister Ryutaro Hashimoto was quoted as saying by Kyodo News Agency. "I really hoped he would work for the new BOJ."
In March, Japan's financial world was shaken when a corruption probe into the powerful bureaucracy reached the Bank of Japan. A bank official was arrested for allegedly accepting bribes from financial institutions.
Last month, the central bank punished 98 employees who were found to have been wined and dined by financial institutions.
Bank of Japan governor Masaru Hayami denied speculation that Kamoshida had uncovered further corruption inside the central bank.
"I haven't heard that there were any emerging problems," Hayami was quoted as saying by Kyodo. "He seemed rather tired these days. I'm afraid he was exhausted."
The central bank -- known in Japan as the "bank of banks" -- had long been considered immune to scandal and had never before been under a criminal investigation. Former bank governor Yasuo Matsushita resigned to take responsibility for the scandal.
Kamoshida's suicide was the latest in a series of scandal-related deaths in Japan. Others who have killed themselves in recent months include a lawmaker, a Finance Ministry bureaucrat and a highway authority official.
Japanese bureaucrats long have accepted expensive gifts from private companies. Many of the bribery charges and penalties stemmed from late-night dining and drinking sessions that have been a traditional part of doing business in Japan.
However, government officials are increasingly being prosecuted for accepting bribes as Japan strives to deregulate its financial sector and reform its bureaucracies.
Japan has a long tradition of using suicide as a way to take responsibility for -- or escape from -- disgrace or failure.
As Japan's economy struggles, suicides by private sector executives have also surged. The number of corporate suicides in 1996 -- the latest figures available -- rose by 16 percent from the previous year, according to national police figures.