Here's the casualty list from Florida's open season on tourists:

Uwe-Wilhelm Rakebrand, 33, of Germany. Shot to death in his car yesterday as he left Miami airport.

Barbara Meller Jensen, 39, of Berlin. Shot to death April 2 after she got lost driving from Miami airport.

Jorg Schell, 59, of Germany. Shot to death March 11 outside a Miami-area motel just after arriving there.

Jesus Alberto Delgado, 47, a Venezuelan diplomat. Shot to death Jan. 26 outside a friend's Miami home.

Ralph Passero, 56, of Canada. Shot to death Jan. 22 when he tried to drive away from a robber outside a Miami-area restaurant.

Marc Nadeau, 33, an Air Canada executive. Shot to death Dec. 29 near Palm Beach while walking to a convenience store.

Rudi Rohlott, 54, of Germany. Shot to death Dec. 8 while walking in Fort Myers.

Keith Thompson, 42, of Chelmsford, England. Shot to death Oct. 3 in an Orlando hotel garage.

In November, after dozens of motorists were shot at by snipers and one was killed, the Florida National Guard began flying air cover for motorists trying to get through Jackson-ville's "Ambush Alley" I-295 bypass.

MIAMI - Florida bandits yesterday ambushed another hapless tourist, killing a German just off the plane and sparking cries of outrage from the White House to Berlin over one more case of tourist-as-prey.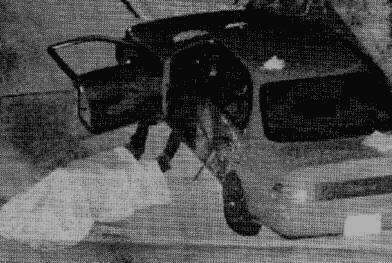 Describing the killers as "hunters," police last night arrested Ricondall Wiggins, 19, and charged him with murder and robbery. Police were seeking other suspects, one possibly a woman.

"It's tragic," said White House press secretary Dee Dee Myers. "It's something that [President Clinton] is very concerned about."

Miami Police Chief Calvin Ross was "totally aghast."

"I'm just so distressed I don't know what to say," said Gov. Lawton Chiles.

The German Foreign Ministry did, firing a shot across the bow of the Sunshine State's $31 billion-a-year tourist industry, which profits from 400,000 Germans a year.

With four-of eight recently slain foreign tourists Germans, Berlin warned that it will reexamine travel advisories for citizens, and renewed its call that rental cars in Miami be delivered to tourists' hotels rather than picked up at the airport.

The killing early yesterday of Uwe-Wilhelm Rakebrand, 33, an agriculture engineer from Adendorf, Germany, seemed especially wanton.

He and his pregnant 27-year-old wife had just picked up an Alamo rental car after arriving on vacation.

As Rakebrand drove the red Toyota Corolla down State Road 836 toward Miami - his wife beside him reading a German-language crime-safety brochure provided by Alamo - a van approached from the rear and bumped the car, police said. Police said Mrs. Rakebrand, frantically quoting the brochure warning about "bump-and-rob" tactics, told her husband not to stop. So the van pulled alongside the Rakebrand's vehicle. A shot rang out, and the van roared into the darkness. Rakebrand was killed, a bullet in his back. The Toyota careened across the median and hit another vehicle, but no one was seriously injured.

"Vicious. Brutal. Disgusting. Horrible," said police spokesman Angelo Bitsis. Alamo spokeswoman, Liz Clark said: "We are completely outraged. There is absolutely nothing the victim could have done to prevent this crime." That was a common refrain. Alamo and the Rakebrands had followed every piece of advice from a state task force on tourist crime. The car had no rental-car markings or special license plates. The Rakebrands were traveling a well-lighted, busy causeway and did not fall for the "bump-and-rob" ploy intended to get them to stop their car so they could be robbed.

"These people did every thing they could to protect themselves," said Gary Stogner, spokesman for the Florida Division of Tourism.

Alamo Rent-A-Car and Travel Agent Magazine offer these tips for surviving a visit to Miami:

Beware of people who yell, honk or point your car as if something is wrong, motion or ask you to stop and help them; flash their headlights, or bump your car from behind."If any of these techniques occur, do not pull over or stop," Alamo tells customers, "Instead, drive immediately to the nearest service station or well-lighted area and call the police."

If you get lost or suspect you're being followed, go to a service station, restaurant.or other well-lit public place.

Conceal luggage, purses and other valuables in trunk.

Keep car doors locked and windows up at all times.

Park in well lighted areas and never pick up hitchhikers.